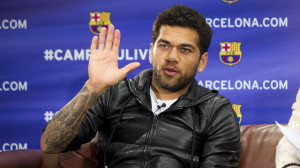 Dani Alves is not fancied by Manchester City, who in recent years have secured the services of major players in the world. Money is not the problem, but the player's profile.
In case the Brazilian winger would not extend a contract that ends in 2015 at Barcelona, PSG and Manchester City are advertised as long-time contenders. But bombshell!It seems that the English club is finally not much interested.
In response to an alleged offer of 18 million reported by The Sun, Manchester City have responded with an emphatic, not only about the amount but also on the interest for the player, according to Sport.
Dani Alves would lose a safe destination. However, this could finally be profitable to PSG.