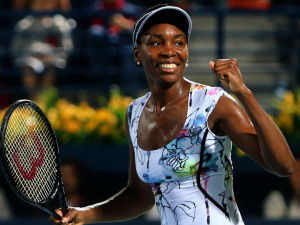 Two breaks at 6-5 obtained in each round and Venus Williams qualified for the knockout stages of the Family Circle Cup. Opposed to the South African Chanelle Scheepers in the second round of the Charleston tourney, in the U.S has imposed herself with two identical sets, 7/5, at the end of a totally unbridled game.
Seeded No. 11, the eldest of the sisters Williams concedes her second serve after 7 minutes of play. Scheepers confirmed the break (3-1) and takes the lead in this set. But was caught up 5-4 before losing the set after 48 minutes of exchange. The second set was more unrestrained, leading 4 games to 1 after two breaks, the 77th player in the WTA poorly controlled her serves and was again joined. Venus Williams (28th-rank) takes the lead of the set with 5-6 and then validates her qualification in 1 hour 48 minutes, 7/5, 7/5.
She will face the Canadian Eugenie Bouchard (20th in WTA) for a place in the quarterfinals.