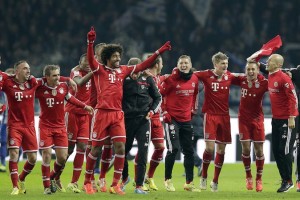 The European season is over for Manchester United. The English club was eliminated Wednesday from the Champions League after losing 1-3 in Germany to Bayern Munich. Yet in the first leg, the Red Devils had created the feat in holding a 1-1 draw.
Even at the Allianz Arena, the men of Moyes believed and opened the scoring with Patrice Evra. But it was a short-lived joy. Mandzukic equalized in stride. Then the Bavarians started a scoring party. Thomas Muller added a second goal before Robben kills any suspense in this encounter.
Bayern Munich remains on course for an unprecedented European doubled.
All goals of the match!
[dailymotion]http://www.dailymotion.com/video/x1n303y_patrice-evra-goal-bayern-vs-manutd-0-1-09-04-2014_sport?start=8[/dailymotion]
[dailymotion]http://www.dailymotion.com/video/x1n30hk_mandzukic-goal-bayern-vs-manutd-1-1-09-04-2014_sport?start=3[/dailymotion]
[dailymotion]http://www.dailymotion.com/video/x1n350r_robben-goal-bayern-vs-manutd-3-1-09-04-2014_sport?start=1[/dailymotion]