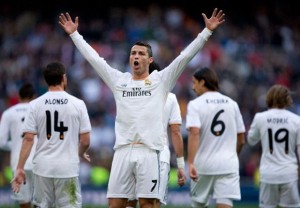 Before facing Bayern Munich in the semi-final of the Champions League, Real Madrid did not do things by halves in the league. The Merengue club easily won 4-0 at Osasuna to return to 3 points adrift of Atletico Madrid who play this Sunday.
Madrid, once again relied on their marksman Cristiano Ronaldo back from injury. The Portuguese scored twice on two hits pretty far. Sergio Ramos also scored as well as the right side Dani Carvajal.
For their part, Bayern also hit hard by winning 5-2 at Werder Bremen.
[youtube]http://www.youtube.com/watch?v=k9iDKNs73IQ[/youtube]