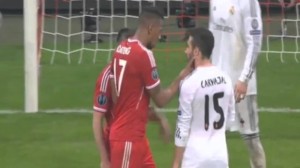 One wonders what he is doing on the pitch. Franck Ribery failed to control his nerves in the semi-final of the Champions League. Led 3-0 after only 34 minutes of play at the Allianz Arena, the Bavarians have fallen into aggression.
Illustration with this very ugly gesture of Franck Ribery on Carvajal. On a collision, the French gave a slap to the Spaniard. A move that has escaped the match referee but not the countless cameras set in the meeting.
No doubt UEFA will seize this image to punish the former Marseille.
Check out the abusive gesture!