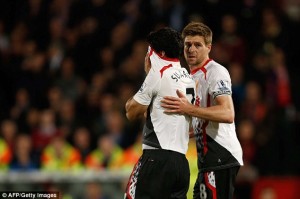 Monday, Liverpool probably let slip a chance of winning the Premier League title. Blame it to a guilty release against Crystal Palace.
While they led 3-0 until the 78th minute, the Reds have been reached on the score (3-3). Here they pave the way for Manchester City who face Aston Villa on Wednesday in late game.
But yesterday an image attracts the attention of fans: the tears of Luis Suarez. The Uruguayan top scorer (31 goals) could not take composure. Like his captain Gerrard, he collapsed. An image that amuses the canvas and that is subject a comparison with Asamoah Gyan.
[youtube]https://www.youtube.com/watch?v=ptF89E-MEAs[/youtube]
4 years ago, Suarez deliberately stopped a ball with his hand as it flew through the goals of the selecção in World Cup 2010. Penalty, but the Ghanaian Gyan missed his shot. Behind the Black Stars are removed with an inconsolable Gyan and Suarez in front could be found in the jubilant crowds.
Anthology of tweets!
Now Suarez know how Asamoah Gyan felt after his handball in 2010 world cup.
— RG™ (@iChiefDiplomat) May 6, 2014
Suarez wept after yesterdays 3-3 ' title loss.Now he knows how Asamoah Gyan felt after his 'handball' #WorldCup2010 pic.twitter.com/RBsLxaTUTO

— Waihiga Mwaura (@WaihigaMwaura) May 6, 2014
Luis Suarez wept like a baby boy @PLFans @premierleague #SSFootball

— NII MARTEY SHIKATSE (@fredemart) May 6, 2014
Luis Suarez wept more than Asamoah Gyan did when he missed the penalty kick………krama………you can never cheat nature

— NII MARTEY SHIKATSE (@fredemart) May 6, 2014