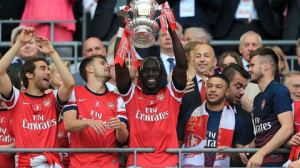 Finally! Arsenal ends 9 years of trophies draught. The London club has won 3-2 after extra time Saturday in the FA Cup final against Hull City. Arsene Wenger may have a smile.
The Gunners can thank Aaron Ramsey. Whenever the Welshman scored this season , Arsenal never lost. Statistics have confirmed this Saturday when he sends the ball into the net in the 110th minute of extra time. Previously, Wenger's men were in trouble. Because after 8 minutes of play, Hull City leads by two goals to 0. Davies and Chester plunge Gunners fans in disarray.
But Santi Cazorla on a master kick gives hope to his team in the 17th. After the break, Koscielny equalized in the 71st and sends his team in overtime. We already know the author of the winning goal.
11th FA Cup coronation for Arsenal equaling in charts winners Manchester United including a 5th personal trophy for Arsene Wenger who also equals Sir Alex Ferguson.
[youtube]https://www.youtube.com/watch?v=af1pbKbk1xM[/youtube]