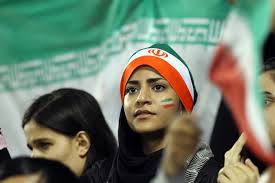 Iranians can watch the matches of the next World Cup in movie houses. Until then, no problem arises. But no question that men and women find themselves in the same venues to follow the matches. This was decided by the deputy to the chief of Iran's police, Gen. Ahmad Reza Radan.
This decision is meant to protect the dignity of women facing some "vulgar" behavior of men.
"The projection of the matches of the FIFA World Cup in a mixed manner is prohibited in movie houses. The matches will be broadcast in rooms reserved for women and others for men only ", police said.
"When they watch football, men get excited and sometimes utter vulgar curses or tell obscene jokes. This does not preserve the dignity of women," she added.
So the projections will take place in rooms reserved exclusively to one sex.
But only here. The union of cinema leaders does not understand it that way and threatens not to broadcast the games. The union would like to make projections for families with sexes combined or otherwise give it up totally.
In Iran Islamic law forbids women to go to the same beaches or pools as men. The police had already taken such a decision during Euro 2012.
In group matches of the 2014 World Cup, Iran, which is found in Group F, will face Nigeria, Argentina and Bosnia-Herzegovina.