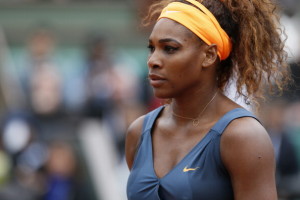 It is the feeling of the day, Roland Garros defending champion loses in the second round. Billed favorite for the French Grand Slam trophy, Serena Williams did not exist Wednesday on the Suzane Lunglen court. The World No. 1 has been sharply beaten by Spanish Garbine Muguruza with identical sets, 6/2, 6/2.
During the 62 minutes-match, Serena Williams has never been able to upset the 35th player in the WTA, multiplying unforced errors. This is only the second time the lady with 17 Grand Slam trophies was eliminated in the second round in the Paris tournament.
The sky fell on the head of the clan Williams since some hours earlier, Venus also disappeared from the table as she was beaten by the Slovak Schmiedlova. The executioners of Williams sisters will compete for a place in the knockouts.
The fifteenth Internationaux de France obviously does not smile at the women singles icons since yesterday, the World No. 2, Li Na, was surprised of entry.