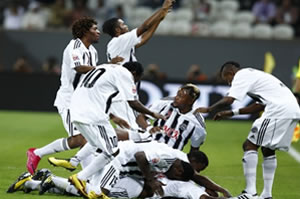 TP Mazembe chairperson, Moise Katumbi, has urged the Congolese giants' supporters not to give up on the team.
Katumbi addressed the team's supporters after its 1-2 loss to South Africa's Mamelodi Sundowns on Saturday.
The loss leaves Mazembe without a win in the group phase of the CAF Champions League.
However, Katumbi believes all is not lost yet, saying the supporters need to rally behind the team.
"Since the Champions League group stage, we haven't won a game and haven't lost qualifying yet," Katumbi is quoted telling Mazembe website.
"We must not give up hope. We are believers and will we fight. It is impossible for the first place and possible for the qualification. To the supporters, pray for our team and together reorganize our team to qualify. Do not look for scapegoats… Nothing is lost, we have good players, do not condemn the coach who has just taken over the team… A real Mazembian does not attack the coach, the team is orphan of you supporters… "
The latest defeat piled pressure on coach Pamphile Mihayo, who too, remains optimistic of qualification to the next phase.
Mazembe have two points in the group. The coach, too, echoed, Katumbi's remarks of optimism.
"The performance was not bad, the end result sweeps away everything we have shown good in this meeting. The final score betrayed all the will to do well that we had," he is quoted saying.
"We will get back to work to get out of this group. "