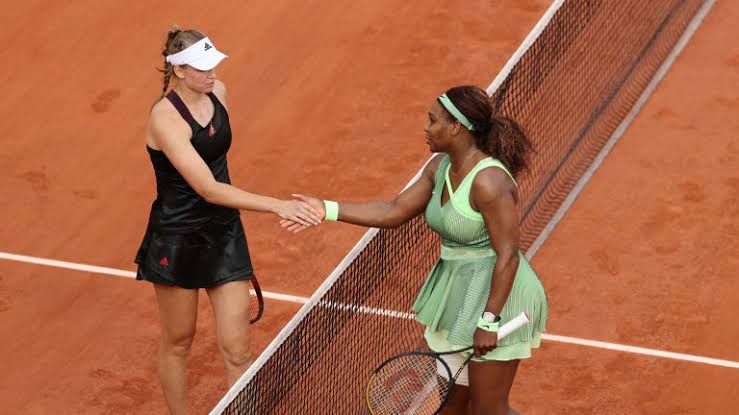 Serena Williams has been sent packing from this year's Roland Garros in the fourth round by Kazakhstan sensation Elena Rybakina on Sunday.
Rybakina defeated the three-time champion 6-3, 7-5 to become the first tennis player in Kazakhstan to defeat Serena.
It was the WTA No.21 seed first-ever Grand Slam round of 16, while 7th-seeded Williams was contesting her 64th — the first of those coming at 1998 Roland Garros, a full year before 21-year-old Rybakina was born.
However, Rybakina exhibited the form that pulled her to four WTA singles finals and a Top 20 ranking in the first two months of 2020, and she has appeared to rekindle that fire this fortnight, where she has attained back-to-back wins for the first time since the very first week of the season.
In the first meeting between the two players, Rybakina's one-hour and 17-minute upset of 23-time Grand Slam champion Williams came after the Kazakh converted five of her seven break points.
She also won nearly 60 percent of points returning the Williams second service
Williams's 15 winners were outweighed by 19 unforced errors, as her quest for a historic 24th Grand Slam singles title will have to wait until another attempt at Wimbledon.
Williams had been 14-0 against players from Kazakhstan before Rybakina pulled off the upset.
Rybakina, now into her first Grand Slam quarterfinal, has yet to drop a set during the fortnight.
Moreover, two first-time Grand Slam semifinalists and a first-time Grand Slam finalist are guaranteed from the bottom half of the draw, with Rybakina the highest-ranked player remaining in that half.
Rybakina will now face No.31 seed Anastasia Pavlyuchenkova of Russia in the quarterfinals. Pavlyuchenkova followed up her third-round upset of No.3 seed Aryna Sabalenka with another stunner of a higher-seeded Belarusian, eliminating No.15 seed Victoria Azarenka earlier on Sunday.