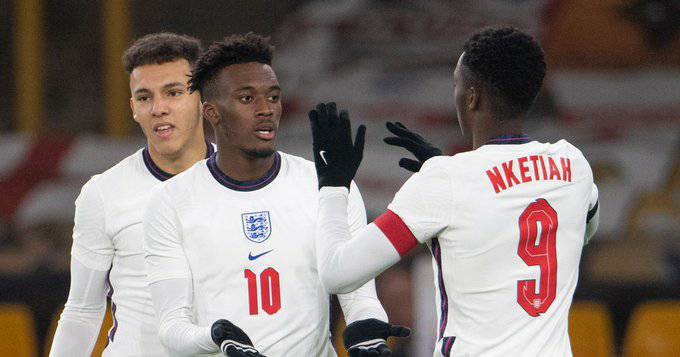 According to rumours, Eddie Nketiah and Callum Hudson-Odoi are ready to relocate from England to Ghana ahead of the 2022 World Cup.
According to Football London, both players have been persuaded to join the African country for which they are qualified to play.
Nketiah, who has never played for the senior squad, leads the Three Lions' Under-21 all-time scoring list with 16 goals in 17 matches.
Hudson-Odoi, a Chelsea midfielder, has three senior caps to his name.
All of them arrived in 2019, when Gareth Southgate was dealing with an injury problem.
Players with no more than three international appearances before their 21st birthday can change their allegiance under a Fifa regulation change in 2020.
As a result, both players will be able to finalise the transition, increasing their chances of playing in the World Cup in Qatar this winter.
For his attack, England manager Gareth Southgate has a number of alternatives.
However, it is still a setback for Southgate, as he will have a fewer pool of talented players to choose from, especially if he is hit with late-season injuries.
It will be a tremendous help for Ghana boss Otto Addo, who will be able to field a far stronger team for the tournament.
Ghana has qualified for the competition and will compete in Group H against Portugal, Uruguay, and South Korea.
In Group B, England will face Iran, the United States, and either Ukraine, Scotland, or Wales.
Nketiah has recently been on fire for Arsenal, scoring four goals in his previous four Premier League games.
However, when his contract expires in June, the striker appears to be on his way out of Arsenal.
Hudson-Odoi has also been a regular for Chelsea this season, making 28 appearances in all competitions, including 15 in the Premier League.