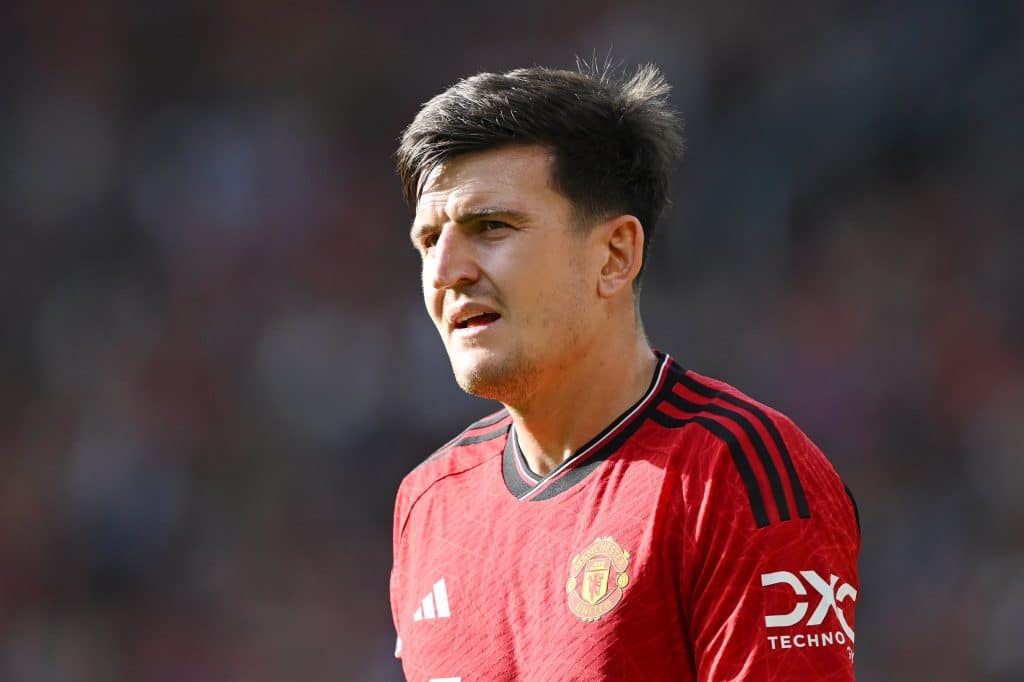 Harry Maguire described a surprising call from former player David Beckham three weeks ago as "classy" and "touching," in which Beckham offered the troubled England and Manchester United defender some words of consolation.
Maguire, 30, has been subjected to savage abuse from irate fans, an experience Beckham is all too familiar with as the result of his infamous red card during the 1998 World Cup, which may have made him the most despised person in England and served as the basis for his candid Netflix documentary "Beckham."
After England's 3-1 victory over Scotland on September 12, when the Scottish supporters' toxic booing caused Three Lions manager Gareth Southgate and Maguire's mother Zoe to lash out in rage, Beckham sought out.
"(Beckham's call) meant everything," Maguire told reporters on Tuesday after England's training at St. George's Park.
"I've spoken throughout my career about David Beckham being someone I looked up to and watched when I was a young boy.
"He was a big role model when I was growing up.
"It shows how classy he is to reach out to me. It was something I really appreciate. It was touching really."
Maguire, who has 59 caps for England, had a strong performance against Scotland aside from an own goal, and he is in Southgate's squad for the friendlies against Australia on Friday and Italy on Tuesday at Wembley Stadium in London.
The former Man United stalwart and his wife Victoria discuss the vitriol they experienced following his World Cup gaffe in the four-part Beckham documentary.
Threats to kidnap their young son Brooklyn were made.
Rocks were thrown at United's bus, and a Becks effigy was erected in a tavern.
Beckham, who is now 48, claimed he experienced a severe depression.
Maguire says he saw the documentary and was shocked by the severity of the assault Beckham experienced.
The 30-year-old stated, "The main thing he did was he reminded me of the career I've had to date and the big moments I've had in my career," though he was reluctant to discuss much of their talk.
"I think when you're going through tough moments you've got to go through past experiences and past memories and where you've gone in your career and what you've been through," Maguire said.
"Every career is so up and down, especially when you reach what I've reached, in terms of being the captain of the biggest club in the world for three-and-a-half years.
"He's been in that position and knows what it's like."
The much criticised defender was benched from United's starting lineup last season, but his crucial role in their dramatic come-from-behind victory against Brentford last Saturday should allay his detractors.

West Ham and Maguire were connected during the transfer window, but no deal was ever struck.
"Regular game time is really important to me. It has been throughout all of my career.
"The actual opportunity to go to West Ham, it wasn't agreed really between both clubs and myself … we didn't get far enough down the line with it.
"My full focus is still on Manchester United, I want to fight for my place, but of course game time is really important to me."
England leads Euro qualification Group C with 13 points after five games. North Macedonia, Italy, and Ukraine each have seven points.