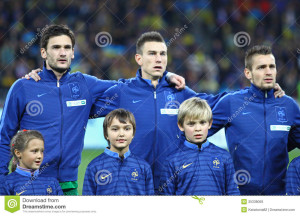 As announced by the President of the French Football Federation in March, players who participate in the next World Cup in France will have to share 30% of the funds paid by FIFA to the FFF.
If the Blues are eliminated in the group stage, this amount will be approximately € 5.8 million. It will be almost the double (10.2 million) if the Blues qualify for the quarterfinals. In case they achieved the feat of winning the Cup, Patrice Evra and his band will emerge with € 25.3 million.
Thus, each French player will receive 75,000 Euros if they are eliminated in the first round whereas they'll gather up each 133,000 in case of qualification for the quarters and 330,000 if France becomes the world champion.
Tidy sums that will surely be strengthening to the Blues of Didier Deschamps!