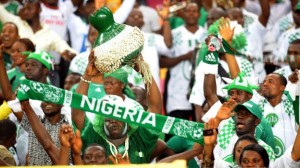 The Super Eagles have been given a major boost following revelations that each player will pocket U.S $100 thousand should the former soccer heavy-weights win the 2013 AFCON finals in South Africa.
Each Super Eagles star could earn as much as $100,000 should they win the AFCON in South Africa.
"Incentives will not be the Super Eagles problem at the Nations Cup," a top official simply informed MTNFootball.com at the weekend.
"If they go all the way and win the competition, they will each take away about $95,000 and when you add that to their daily allowances of around $5,000, you will have about $100,000.
"And the chief coach (Stephen Keshi) will get double this amount."
In the proposed budget for next year's Africa Cup of Nations, each Super Eagle player will earn $10,000 for a win in the first round, where they are drawn against defending champions Zambia, Burkina Faso and Ethiopia.
This would translate to $30,000 each if they win all three first round matches, the same amount they also received when they qualified for the quarterfinal of the 2010 tournament in Angola.
However, in Angola, the bonus was a winner-take-all one in the sense that the players were paid $30,000 each for going past the first round rather than being paid per game.
The team's win bonus will then be reviewed upwards as they move up in the knockout stage of the biennial competition.
Victory in the quarterfinal will fetch each player $15,000, while victory in the semi-final will see them $20,000-a-man richer.
And should the Eagles clinch Nigeria's third Nations Cup trophy inside the magnificent Soccer City in Johannesburg on February 10, each player will pocket a win bonus of $30,000.