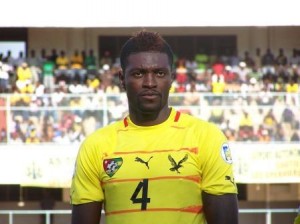 The captain of the "Eperviers"of Togo, Emmanuel adebayor has sent a few comments concerning the suspected management of Gabriel Améyi, the president of the Togolese Football Federation (FTF). Having been received on line by Fréquence 1, radio station in Lomé last Saturday, the Tottenham player has been genuine.
Concerning the problems during the friendly match on November 14 in Morocco :
"In the federation, everyone is selfish. We have not been bestowed our camping prizes. What a shame! Some have got it but others have got the half. I don't know if we can prepare the Afcon like that. When my co-payers asked me about their prizes, I couldn't raise my head because it was very ashamed. The president told me that there was no prize for anyone. However, the Moroccan Federation told me that they have given him 35 000 Euros for the match. I wondered where could have gone the money."
"I am somebody who does not like lies. When I landed and the players told me that there were no training jersey I got confused and asked the responsible for reasons. He ignored the reason but when I called a responsible from the Puma company from Monaco, he told me they have the equipments 3 weeks ago. What a shame! I finally thought that the president does not know how to prepare an Afcon".
Concerning the preparations to the 2013 Afcon.
"I am personally happy with the establishment of commissions for a better organization of Afcon. Now they should know who to give the responsibilities. Remember that I told you after the match against Gabon that I wanted to go to Afcon and handle it. Today, I don'tknow whether I should change my mind. An Afcon is never prepared the way we do in Togo. It's high time we changed for the foregoing of the Togolese football. If we remain in such conditions we are going to have a catastrophic Afcon. If it will be so, I stay in my club and get prepared to make it win".