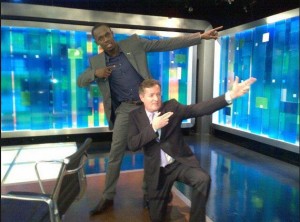 Coming up this evening, the "Piers Morgan Tonight" studio takes on an electric atmosphere, as the show welcomes a bolt of excitement in the form of an Olympic-sized personality.
With six gold medals to his name, and the informal title of "Fastest Man in the World," Usain Bolt carries the hopes and dreams of his native Jamaica every time he sprints down the track.
But, wonders Piers Morgan, can the 26-year-old carry a tune?
Initially claiming he was limited in the vocal department, Bolt reluctantly launches into a serviceable rendition of the classic hit "One Love/People Get Ready" by Bob Marley & The Wailers.
"I knew you could sing," proclaims Morgan.
After a spirited chat about English football, a passion both men share (Morgan represents Arsenal, Bolt supports Manchester United,) tonight's primetime interview turns it's attention to Bolt's love life:
"How long is the queue for women trying to get near you at the moment, to the nearest 10 miles?" asks Morgan, assuming his guest is rarely left home without a date on Saturday night.
Claiming there is no such line of females fawning over the two-time reigning Olympic gold medalist in both the 100 and 200 metres, Bolt says he's available:
"I'm single right now," he says. "Look at me! What can I say, man!"
Watch the clip, and listen to the interview, then tune in for Morgan's face to face sit down with Bolt, as the Olympic champion reveals his intentions for the 2016 Summer Games in Rio de Janeiro, Brazil :
https://www.youtube.com/watch?feature=player_embedded&v=6dtcZENXk14#