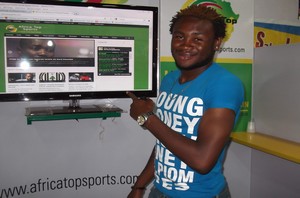 The Togolese player Farid Zato (in the photo at the stand of Africa Top Sports at the trade fair of Lomé) has been transferred but still remains in Iceland.
The former player of the Libertys d'Agbodrafor training centre in Togo is henceforth going to evolve under the colors of Vikingur Olasvik, a second division club in Iceland.
The midfielder has been transferred this month thanks to his performance last year with his former club HK Kopavogur.
Farid Zato was completing his season in the team championship standard established by journalists, clubs captains and coaches.