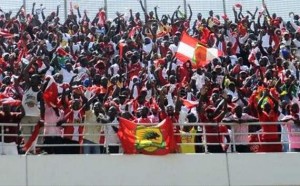 New signing, Kofi Agyare, has told Kotoko Express that he has braced himself up for the Kotoko challenge and that he looks forward to a fabulous stay at his new club in Ghana.
The agile and tough defender is making a historic switch from Hearts to Kotoko and the pressure of club culture change aside, he has another pressure to deal with in the form of a stiff competition for playtime.
With Kotoko abounding in talent especially at the defence position, one would think it would scare off other defenders from joining the club, but Kofi Agyare thinks otherwise.
"Yes it is true that Kotoko has talented players at the back, but I believe my inclusion is to add up to the quality as I also have some unique qualities that will add up to the rich store of players Kotoko has".
"I knew the competition at Kotoko before making the decision to come. I am a fighter and also believe in competition, so I envisage little or no difficulty in making it into the playing squad".
Agyare has tied himself to Kotoko for the next three seasons.