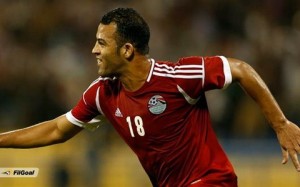 Wael Gomaa and Al-Sayed Hamdi will be the only two Ahli players included in Egypt squad for next week's friendly against Ghana.
Egypt entertain the Black Stars on January 10, one day before Ahli play an exhibition game with Saudi Arabia's Hilal for the farewell of former defender Abdullah Al-Sharida.
It has been agreed that Gomaa and Hamdi stay with the Pharaohs, while five players join Ahli before returning to the national team for the Ivory Coast friendly on January 14.
"We agreed to release only Hamdi and Gomaa. The rest of our internationals will join after the Hilal game,"
In addition to Gomaa and Hamdi, Egypt heavily relied on Ahli players in the previous friendly win over Qatar, which included Ahmed Shedid, Rami Rabiea, Abdullah Al-Saied and Geddo.