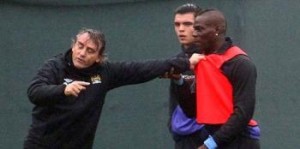 Mancini was apparently involved in a shoving match with Mario Balotelli on Thursday, the Italian duo seemingly having to be separated by Manchester City staff members in training.
The Premier League champions are busy preparing for their FA Cup clash against Watford on Saturday, although Thursday's training session at Carrington ended with manager Mancini becoming engaged in a heated confrontation with bad boy striker Balotelli.
The City tactician is believed to have stepped in after the youngster took out Scott Sinclair with an overzealous tackle, with images showing Mancini and Balotelli grabbing each other in a very aggressive manner before being torn apart by the training-ground staff.
The incident follows on from a long line of reports suggesting a January exit for the Italy international, who has never really seen eye-to-eye with his compatriot, resulting in his fringe contribution to the first team this season.
The photographs in question now hint at a likely departure for Balotelli, who has been linked with a host of top clubs, with Juventus thought to be a plausible destination for the 22-year-old.