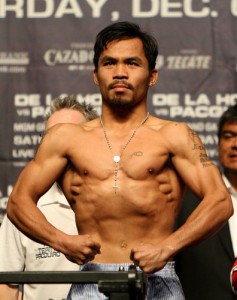 The recently knocked out Manny Pacquiao could still be fighting twice this year, according to ABS-CBN News. Pacquiao just arrived back from vacation in Israel and he reportedly may choose to fight twice in 2013 if possible. His opponents are still undecided, although his promoter Bob Arum is very high on putting Pacquiao back in with Juan Manuel Marquez for a fifth fight.
Before Pacquiao fights again, he'll likely be checked out at the Cleveland Brain Clinic in Las Vegas, Nevada to make sure that he's okay to fight again. This is what Arum wants before Pacquiao gets back in the ring.
For Pacquiao to fight twice in 2013, he's going to have to be back in the ring by at least June or July, since his fights are often five months apart. It's possible for Pacquiao to fight twice but he may have to convince Arum that this is a good idea because he's been talking about having Pacquiao rest until September.
If Pacquiao fights in September then he'll only get one fight in this year. It looks like Pacquiao doesn't want to drop off his activity level, so we should be hearing something soon if he does indeed plan on getting two fights in this year.
Whether it's a smart thing for Pacquiao to be back in the ring in the next five to six months is debatable. He might be okay if they put him in with a lesser puncher like Tim Bradley or someone along those lines, but Arum has shown interest in wanting to match Pacquiao up with Top Rank fighter Brandon Rios. In that case, Pacquiao will likely take a lot of hard head shots in a fight of that nature. He might still win but he'll get hit a lot if Arum puts him in with Rios next. I don't know how wise it would be for Pacquiao to be facing a puncher after the way he was knocked out by Marquez.