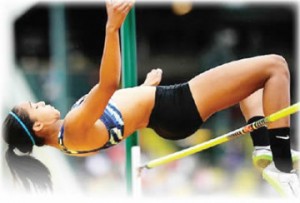 Gabby Williams as a young child used to sleep while cradling a small basketball. She sometimes sleeps with her eyes closed and half asleep, she imagines dribbling the ball in the air. The 16-year-old Williams can trace her love affair with basketball back to her crib. But a relatively new flirtation, with track and field, may steal her heart.
At age of 15 in the days of summer, and was having a little training, Williams got everyone shocked by finishing fifth in the high jump at the U.S. Olympic trials. The youngest girl in any event at the track trails but always at the top leap of 6 feet, 2¼ inches was the sixth best ever for a high school athlete. She also tied Amy Acuff's 21-year-old best mark for a high school sophomore.
"I like the high jump more than basketball right now," said Williams, a 5-foot-11 junior point guard at Reed (Sparks, Nev.) who can dunk a softball. "I like the atmosphere — there's no trash talking. Either you are good or you're not."
 On the court, Williams is certainly the former. She led Reed to a Class 4A state basketball title last year and is averaging 32 points, 12 rebounds, 9 assists and 6 blocks through 11 games this season.
Basketball runs deep in her family (both her sister and father played at a high level), and her love for hoops showed in the sweatshirts — "Raiders Basketball" — she wore at the trials.
Williams calmly flips around and interviews the college coaches most especially at heavyweight basketball programs such as Connecticut and Stanford whiles most kids of her age would be feeling nervous in talking to them.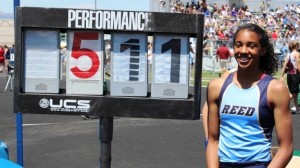 "My first, second and third questions are always the same," said Williams, who has a 3.59 GPA. "I ask them": 'Can I do both sports? Do you have a good relationship with the track coach? Can I redshirt my sophomore year so I can focus on making the Olympics in Rio [de Janeiro in 2016]?'
 "If they are iffy about it, then I will be iffy about them."
Reed basketball coach Sara Ramirez is not surprised about Williams request of no school has backed her away so far. Ramirez has known Williams since her basketball love affair began. She was coaching with Williams' father, Matt, for an AAU program when Gabby was born. In fact, Ramirez has seen Williams growing by leaps and bounds a giant leaps.
 "She's the best athlete and player I've ever coached," Ramirez said.
 "When Gabby was in the fourth grade," Ramirez said, "she could tell me what defense our opponent was running and how to beat it. That's when I knew she was truly special."
 Williams appears to be well on her way to outshining her 6-4 father, who played at Nevada Reno, and her 5-11 sister Kayla, who played one year of pro ball in Australia.
And even if she said the high jump is her favorite right now, Ramirez isn't buying it.
 "She's only been doing track since middle school, so it's new to her," Ramirez said. "But I can see it in her eyes how much she loves basketball."
 Three medal gold' was won by Williams in 2012 at the state track meet and still has some interesting goals for 2013.The record of her high jump is 6-4 in which she wants to surpass the state high school.
 "I'd at least like to pin a ball against the backboard," she said.
She has one regret of not focusing on the high jump earlier.
"London was not even in my dreams," she said of the 2012 Games. "I took it seriously at the end, but I had no idea I was so close or I would have gone to more meets."
No matter what happens, Ramirez said she doesn't expect her star player to change her personality. Williams, who watched all the presidential debates, is studious, but she also has another side to her.
 Read also:
http://en.africatopsports.com/2013/01/10/basketball-timberwolves-overcomes-love-to-clip-hawk