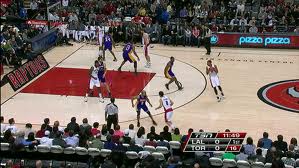 Destruction? Masochism? Machiavellian plan in the pipeline? These Lakers remain an enigma this season.
Even with their five major high level, they are still unable to fly.
Kobe would like to make the difference but it's too late. On his another shot missed (his 15th of 20), the Lakers finished the 3rd quarter so pitiful (83-70).
And nothing suits last quarter with Bryant takes to turn a technical foul.
Pau Gasol tries well to keep the house but Kyle Lowry chained two bombs and return to their ease Raptors (95-76).
Watch rather the video here:
http://www.youtube.com/watch?v=PDQpp9XKWgc