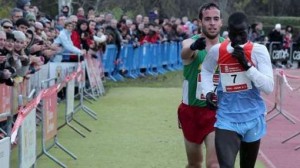 This is my favorite video of the day! I stumbled upon it …
It is a cross in Burlada, in northern Spain.
The Kenyan Mutai Abdel, a bronze medalist at the London Olympics, believes he won the race slowly but stops ten meters before the finish line, convinced of having crossed!
Ivan Fernandez and his pursuer could take the opportunity to steal the victory, but very sportingly, he pushes him to cross the line first!
"I did not deserve the win. I did what I had to do. He was the true winner. He had been away and I could not fill it if he had not made that mistake. "
Here are the pictures
Basile Boli. 20.1/2013
[youtube]http://www.youtube.com/watch?v=azgL23K_8zU[/youtube]