But yes, the League Cup i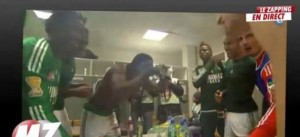 s beautiful. Before flying to South Africa, I had the right idea last night to watch the semi-final of the League Cup, Saint-Etienne, Lille.
Well, it is true I am bored up to the overtime. And Basil remains polite … But then what suspense! A real treat! It's good to see a shoot on goal as exhilarating. It recalled that of the last final of Afcon between Côte d'Ivoire and Zambia.
Yesterday, it took seven pénos in Saint-Etienne to a grand final replay! 31 years after the last one! God that time flies, God that this club has gone through many trials.
It will be hard not to be green in the final. It's so good to see club back and vibrate throughout France.
I loved seeing their joy as the end of the game!
I'm a fan of the star of this team, Gabon Pierre-Emerick Aubemeyang. He is a great guy, brilliant.
Go greens!