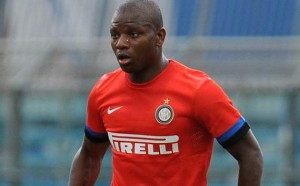 Season over for Gaby Mudingayi.
Injured on Sunday during the Serie A match between Inter Milan and Torino (2-2), Mudingayi is fixed for several weeks.
Examinations taken Monday revealed a tendon rupture for international Belgian-Congolese (DRC).
This is a blow to the midfielder, 31, who returned from a knee injury.
Former player of Bologna, Gaby Mudingayi is at Inter since the summer of 2012. He played eight games (including four as holder) with the Nerazzurri.