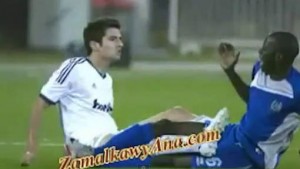 From South Africa where i'm following the Afcon, and the arrival of  David Beckham at PSG, I am also interested in football unusuals worldwide. And I came across this video.
Enzo Zidane Zinedine's son is part of the Real Madrid academy which believes a lot in him …
Enzo just made a name for him during the youth international tournament in Doha (Qatar).
He was expelled after only 8 minutes of the game. He did not like a supported tackle and he lost his cool.
It reminds us of some memories …
Here are the video of the son and his dad …
[youtube]http://www.youtube.com/watch?v=kelZEKsex6s&feature=player_detailpage[/youtube]
[youtube]http://www.youtube.com/watch?v=vtlzaJ01qmQ&feature=player_detailpage[/youtube]