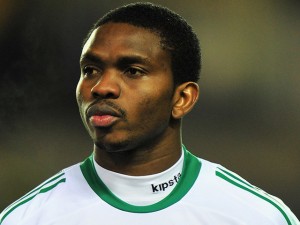 Captain Joseph Yobo says the team will focus on qualifying for the next World Cup, scheduled for Brazil in 2014.
Yobo said  in Johannesburg, South Africa, on Monday that the team would also prepare to play in the Confederation's Cup to be hosted in June in Brazil.
He said their victory in the AFCON tournament was due to team work and commitment by the players and officials.
"We still have the Confederation's Cup and then the World Cup is coming. For me, I said AFCON, I am done with AFCON. It's my sixth one. 
Hopefully, I will make it to the next World Cup and that is it.
"But, I am just happy, we were re-building for about eighteen months , we started so, we have proven it, we have won this tournament , I am  just happy but all glory to God, I just thank God.
"You know, football is not easy. You come to the tournament believing that you will win.
"As you know, we did not start very well. Nobody gave a chance, but we built our confidence and the results came for us.
"So, we are happy and we got to the quarter finals, then we realised  that okay actually have the chance to win it.
"But, you can't really come into the tournament thinking that you can win it without coming out the group.
"After we qualified from the group, we had a lot of confidence and we believed that we could win it.''
Yobo said the team knew that the ultimate was to win the tournament and they did it.
He said they would work hard to qualify for the World Cup because the entire team was disciplined and was ready to work extra hard to  achieve more results.