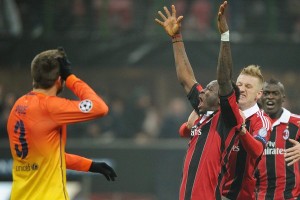 AC Milan drew on his Africans to beat FC Barcelona at the end of the eighth-finals of the European Champions League.
Ghanaians Kevin Prince Boateng and Sulley Muntari were decisive in the second period of the game.
And yet we do not expect to see the Italians hold a candle to the Blaugrana in great shape now. Thanks to an organization on the ground, Rosseneri have upset the odds and proved to be physically present on the ground.
The first goal of Milan was included in the 57th minute of play, a very good work of Boateng. Ghanaian, half-volley Victor Valdes successfully surprises. A goal scored against short gaming
Completely extinguished by the goal, the formation of Barça had trouble finding the fault. And this is the Corsican club Lombard addition by Sulley Muntari after a nice collective action in the 81st minute.
The Franco-Senegalese Mamadou Niang, Malian and Guinean Bakaye Traoré Kevin Constant attended the meeting.
The Catalans have released a great game in the return match at Camp Nou expected to return the situation.
Read also :