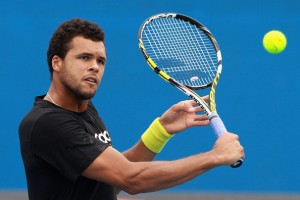 The world number 16 defeated the Ukrainian Stakhovsky in three sets to book a place for himself in the quarterfinal.
Sixth seeded Jo-Wilfried Tsonga continued to impress as he battled past Sergiy Stakhovsky at the Open 13 tennis tournament in Marseille.
The Frenchman had a shaky start to the match. He dropped his serve once in the first set and lost it by 5-7.
However, he came back strongly in the second and third sets breaking his opponent's serve thrice. Tsonga fired 11 aces at crucial moments in the match and forced his opponent to play from the baseline, earning much needed points.
He did not allow Stakhovsky to come back into the match after the first set as he kept pressurising him with great aggression and accuracy. Tsonga took the second set 6-4 and was then unstoppable in the decisive set as he sealed the match 7-5, 6-4 and 6-2 in 1 hour and 49 minutes.
"I didn't really know how to play against him. I was a bit lost as to how to approach the whole thing," Tsonga said. "I pulled myself together, which is the most important thing. The fans helped me."
"When I got going things were better," Tsonga added. "Players like that are able to hang in there over a whole game, except that when there's the right type of player in front of them there comes a time when they crack."
On the other hand, Stakhovsky who has improved significantly over the past few seasons and ended 2010 with his career high ranking of 46, had a glimpse of hope when he was leading one set to nought but could not capitalise on the chance. His on court movement was very slow as he was too late in reacting to the serves fired by the French powerhouse.
The two players had met each other only once before at the Australian Open 2010, when Tsonga secured an easy win over Stakhovsky in straight sets and their recent encounter ended in the same fashion.
Moving into the quarterfinal Tsonga will very feeling very confident and positive about the way he is performing.
He was also the runner-up at the Rotterdam Tennis Tournament and continued his good form in this tournament as well.
The Frenchman won the indoor tournament in Marseille in 2009 and will be hoping that the history repeats itself.
Read also :
http://en.africatopsports.com/2013/02/20/tennis-tsonga-makes-his-debut-at-the-atp-tournament-in-marseille/