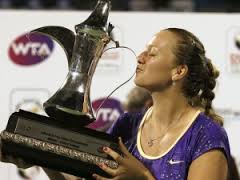 On Saturday night, Sara Errani caught fire in the second set but Petra Kvitova got the momentum back in the third to hit double digits in WTA titles at the Dubai Duty Free Tennis Championships.
In a match with some very large momentum swings it was Petra Kvitova whose fortunes swung the right way at the right time, running away with the last five games of the match to beat Sara Errani on Saturday and win her 10th WTA title at the Dubai Duty Free Tennis Championships.
The No.6-seeded Kvitova dominated the early goings, overpowering Errani to take a 62 10 lead; the No.5-seeded Errani grabbed the momentum from there, winning six games in a row to claim the second set, 6-1, and after a pair of routine holds the two Top 10 stars were locked at 1-1 in the third.
That's when Kvitova came alive again however, winning the last five games to end it, 62 16 61.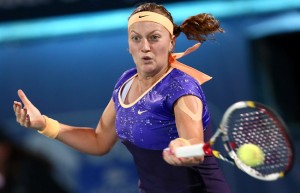 Errani talked about flipping the script in the second set. "In the beginning she was hitting so strong and making winners from everywhere, so I had to change something," she said. "I tried to go to the net more and be more aggressive, and that's it – from the baseline she was playing unbelievable and it was very tough, so I just tried to put some more pressure on her somehow, and it was working."
Kvitova had won all three previous meetings with Errani in straight sets, and even though this one went to three, she remains perfect against the Italian. She also has 10 WTA titles to her name now.
[youtube] http://youtu.be/PVpuUpNB3OM[/youtube]
Read also:
http://en.africatopsports.com/2013/02/23/tennis-doha-and-dubai-have-become-two-and-has-their-40-love-history