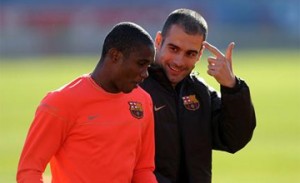 Josep Guardiola, coach of Barcelona then, would have spied several of his players such as Samuel Eto'o. It  is the Spanish newspaper El Confidencial that reveals the information on Monday. During his tenure at the Catalans, Guardiola would have contracted the services of agents to be aware of every move of his players.
Gerard Piqué was his main target. Concerned, his relationship with the singer Shakira that the Barcelona coach feared as ubiquitous in the life of the footballer. Moreover, Piqué had often costs (placing on the bench).
Other players like Ronaldinho and Deco were in the viewfinder of Guardiola. That's what put a flea in the ear of the players of Bayern Munich. Guardiola will be the next coach of the team in July.
Read also :
http://en.africatopsports.com/2013/02/24/ats-exclusivity-samuel-etoo-world-cup-death-threats-career-the-interview-indeed/
http://en.africatopsports.com/2013/02/22/samuel-etoo-in-guinea-to-open-a-new-center/