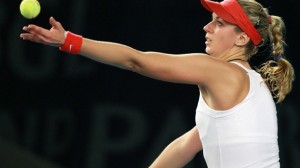 On Wednesday, Merlinda Czink said after edging the 16-year-old Brazilian who is Beatriz Haddad Maia could have a very bright future, With Larri Passos and Gustavo Kuerten in her corner.
Until Teliana Pereira did it last week in Bogotá, no Brazilian had made the quarterfinals or beyond at a WTA event since 1999 – on Wednesday, Beatriz Haddad Maia nearly repeated the feat on home turf, holding match points before falling in the second round in Florianopolis.
Haddad Maia, a wildcard into the draw who won her first WTA-level match in the first round, rolled in the first set of her second round match against Melinda Czink and was on the verge of victory in the third, leading 6-5 and holding three match points – Czink hung tough though and won, 16 62 76(3).
"I knew she was a talented young player and she really came out firing today," Czink said. "I really struggled in the first set with my nerves and my game, but I settled down and was pretty much cruising until 5-3 in the third, when I started to get a little tight again. I managed to pull through but it was tough – she came out firing with no pressure at all. I'm very happy I managed to win this match today."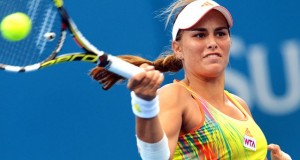 "I'm quite certain she has a very bright future."
And the sky's the limit for Haddad Maia's future, really – not only is she only 16, but she has some very accomplished names backing her up: Larri Passos and his legendary pupil, Gustavo Kuerten.
"I've been working with Larri for about two years," Haddad Maia said. "He's tough but that's how I can get better and become a champion. We've been working very well together and doing the right things."
Haddad Maia plans to play juniors and ITF Circuit events and hopefully hit the WTA scene soon.
Read also:
http://en.africatopsports.com/2013/02/27/tennis-fed-cup-to-be-play-by-germany-porsche-team/