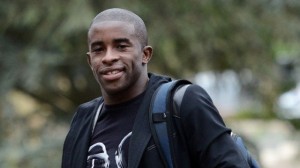 Currently package due to a knee operation, Rio Mavuba gave his news:
"I think of coming back in the late April. I hope to play four or five games of the season, "said the international tricolor on RMC.
Far from the lawns since last January, the midfielder of  Angolan origin played only 15 league one games this season. At 28, he is a survivor who has realized the double with Lille in 2011.
The midfielder is the one who has played the most games in Ligue 1 under Lille colors (179 matches).
Mavuba was himself wounded in a clash in the semi-finals of the League Cup that Lille lost on the ground of Saint-Etienne.
The international tricolor with nine selections with the Blues had already been operated on the same knee in early October and had missed the trip of the Team France to Spain, he returned this season after five years of absence. His injury is a blow to Lille.