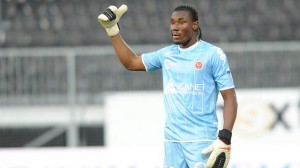 Born on 2nd July 1978 in Lomé, Agassa Kossi is a Togolese footballer.
He was trained in Etoile filante of Lomé, a first division club of Togo before taking the direction of the Ivory Coast operating in Africa Sport in 2001-2002.
He is probably one of the best goalkeepers in League 1 in France. The minimum score of the Hawks of Togo goalkeeper is 6.
He managed to be in the team of the League 1 in France during the 25th day of the championship.
But for the goal of Reims, his best performance was during the match against Paris Saint-Germain. Reims won on the score of 1-0 at the 27th day.
"It's been a while since we expect this victory at home. We did it tonight against a team from Paris which is leading the championship. It is fabulous. I think Paris is going to be champion; they have world class players "
Back to Reims after Afcon 2013, the Hawks goalkeeper did not take long before taking its place in the goals of his training. The club president Caillot is full of praise to him:
"Though Kossi Agassa is anymore young he is still incredibly powerful. So we need a second true No. 1 to overcome a possible blow. Johnny Placide was known. His coming home is the culmination of a long process. He will quickly absorb the philosophy of the club. '
For the goalkeepers 'coach, Xavier Henneuse, Agassa is No.1 "Kossi is a pawn of the Exchequer from Reims, we will not hide it. But behind we got some boys who are working and are always present '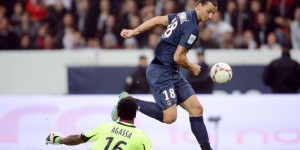 The numbers speak for themselves. Only three goalkeepers in League 1 have a better average than him. With one goal conceded per game the Reims keeper is only overtaken by Sirigu, Carrasso and Ruffier.
The season 2012-2013 is not the first for Agassa Kossi in League 1 in France; he had evolved in FC Metz from 2002 to 2006 before moving to Spain in the second division club, Hercules Alicantes. Back in France in 2008 where he landed in Reims, unconvincing, he was loaned to Istres for a season.
His return on loan since 2010 sounded like a maturity while the player was 31 years old. At the age of 34, the player is at the top of his art.
He managed to qualify Togo for the first time in the quarter-finals of the African Cup of Nations. It was in January 2013 in South Africa.
But before that, he was awarded best goalkeeper in League 2 from 2011 to 2012 in the UNFP trophies.
He has now in his course 52 caps and played in the 2006 World Cup in Germany with Togo.
[youtube]http://www.youtube.com/watch?v=xUdq0SURJLA&feature=player_detailpage[/youtube]
[youtube]http://www.youtube.com/watch?feature=player_embedded&v=2QAx6BcfbRk[/youtube]