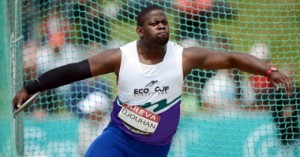 Record holder of France's hopes of discus throw defeated a few days ago with a throw of 61.08 m at the National Winter Championships, Lolassonn Djouhan is now projected to a European podium:
"This performance proves that I am in good shape and good dynamics. I'll try to keep it there in Spain. My goal is to put myself in the top five hopes. Hope level is a little less impressive this year. So I have a real role to play in the European Championships this summer. If I am scheduled beyond 61 meters, I think I can hang a third or second place. In contrast, for the title, it will focus more on a throw to 66 meters. This is also a goal, because in addition to a podium to Europe Hopes, I also hope to get my selection for the World cup of Moscow. And the minima are precisely set at 66 m".
It is said. The Neo-champion of France wants to conquer the European world on the occasion of the European Championships and the European Cup. 21 years old, the Orleans knows that he has a lot to do before this conquest.
"I really bump during the winter season. I worked for two and a half months, not only in a physical point of view but also in a technical one. I did a lot of cardio in order to get refined and lose weight. I lost 9 pounds and 8 inches off my waist to be on top this summer … We do not always tell, but it is very important to be well athletic to better throw. I also highlighted the work of cladding and I worked my starting technique because I had a lot of flaws. By this summer, we will continue to enhance the work of all the difficult issues, whatever the departure or the final. The ideal would be to achieve the minimum for the World as early as possible in the season, before considering a final in Moscow. '
The European Winter Cup of throws  will take place next weekend in Castellon (Spain).