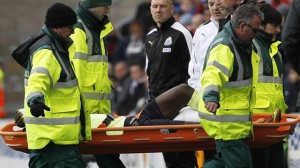 Coming in to replace injured Mathieu Debuchy, Massadio Haïdara did not finish either the Premier League match between Newcastle and Wigan.
The left side of Migpies was the victim of an atrocious tackle of the Wigan midfielder McManamam just below the knee.
The executioner of Franco-Malian did not even get a yellow card.
It is still unclear the severity of the injury but the season may end on this action for the former player of Nancy who arrived in the Premier League in January.
[youtube]http://www.youtube.com/watch?v=-ZcVVSNrTq0&feature=player_detailpage[/youtube]