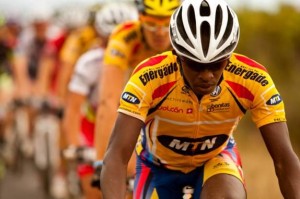 Adrien Niyonshuti was born on 2nd January, 1987 in Eastern Province, Rwanda is a professional bicycle racer for South African UCI Continental team MTN Qhubeka. Although he survived, six of Niyonshuti's brothers were killed in the Rwandan Genocide of 1994.
Niyonshuti began riding a bicycle given to him by his uncle as a teenager, when he came to the attention of former professional cyclist Jonathan Boyer in 2006 during the first Wooden Bike Classic. After riding for the Rwanda national cycling team, Niyonshuti secured a professional contract with Team MTN Energade, beginning in the 2009 professional season.
Niyonshuti began amateur cycling at the age of 16 in his native Rwanda. In 2006, he came to the attention of a former professional cyclist, Jonathan Boyer. The first American cyclist to compete in the Tour de France, Boyer was working in Rwanda on a project to import cargo bicycles for coffee farmers. Boyer also assumed the role of coach for the Rwandan national cycling team, and recruited Niyonshuti to race. Niyonshuti had good initial results in local races such as the Tour of Rwanda, in which he finished in the top ten five years in a row and won in 2006 and 2008.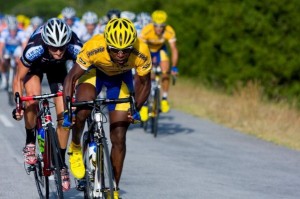 In 2008, Niyonshuti attended the Africa Continental Centre Training Camp in South Africa, where he was offered a contract by Douglas Ryder, the directeur sportif of UCI Continental Team MTN Energade. He started his first UCI European road race in August 2009 with his participation in the 2009 Tour of Ireland, becoming the first Rwandan cyclist to ride in the European professional peloton. Niyonshuti qualified to represent Rwanda in the cross-country mountain bike race during the 2012 Summer Olympics in London.
Achievement:
2004: 6th, Tour of Rwanda
2005: 7th, Tour of Rwanda
2006: 1st, Tour of Rwanda
2007: 4th, Tour of Rwanda
2008: 18th, ABSA Cape Epic
7th, Telkom Satellite Mountain Bike Challenge
1st, Tour of Rwanda
2010: Rwanda National Road Race Champion
2011: Rwanda National Road Race Champion
1st, Tour de Kigali
[youtube]http://www.youtube.com/watch?v=v3E_gO2yHfc[/youtube]
Read also:
http://en.africatopsports.com/2013/03/03/cycling-tour-of-algeria-departure-scheduled-for-11th-march/