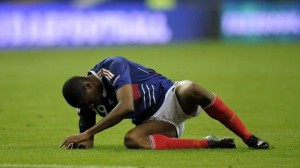 The French international Abou Diaby suffers Wednesday from a anterior cruciate ligament rupture in his left knee, Arsenal announced this Thursday on its official website.
The player from the Ivory Coast is in his 38th injury since he joined Arsenal in 2006. His absence on lawns will be longer than expected.
They are already talking about 8 to 9 months of downtime. And yet the French did everything to remove the label of "weak player" which is pasted on him.
The former PSG midfielder has just played 39 games since the 2010 summer. His injury does not help either France Team.
With the suspension of Blaise Matuidi, Yohan Cabaye and Paul Pogba for the next 2014 World Cup playoffs in Georgia, he could enhance the strength of Didier Deschamps.