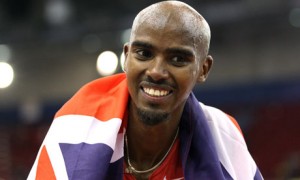 The Briton, Mo Farah dreams to get into the marathon. The Athlete of Somalian origin had hinted he will do his debut in the London Marathon in 2014.
The double Olympic champion in 5000 – 10 000 m quietly prepares to become a marathon runner.
Before 2014, the Englishman started at the 2013 edition of the London Marathon. According to organizers, the Somalian will run just the first half of the course.
For the British athlete, this is an opportunity to immerse in the atmosphere and also discover all facets of the marathon before launching into the deep end of the 42 km.
But this participation caused uproars in the English media. Indeed, the Daily Mail has revealed that the double Olympic champion would receive $ 1.1 million to run only the first 21 kilometers.