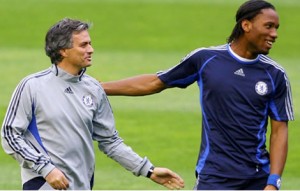 Didier Drogba has always been very attached to his former club Chelsea.
And before a quarter-final in the Champions League against Real Madrid of José Mourinho, the Galatasaray striker pleaded today for a return of his former coach to his former club! "He did not finish the job! –
He has coached from 2004 to September 2007 (two titles of champion of England, two League Cups titles and a FA Cup).
"I think it is in the best interest of the club to recall Jose. The fans want to see him back and he loves Chelsea. If we want to build a strong team a few years ago, he might be the right person. He is a winner and is very close to the players. He went to Inter and is actually in Real Madrid, but he continues to talk about Chelsea. So he loves this club. The only trophy he has not won with Chelsea is the Champions League. Perhaps this is one reason that could push him back. He did not finish his work. "