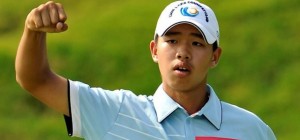 Guan Tianlang holds Thursday's record early in a Grand Slam event of the Golf. At only 14 years, the Chinese will face the world's best for the Augusta Masters.
But the winner of the Asia-Pacific Amateur Championship in 2012 (which gives him a place at the Masters Office) wishes above all to have fun on the runs "There will be some pressure, but I'm not going to force myself because I enjoy the game, "he declared to be confident in his ability to make a good tournament" I am confident and I know I can play well. I'll do my usual game without trying to do too much. First, it will be interesting to be there, I will also try to pass some beautiful shots. That's all… "Says Guna highly interested in facing the winner of  14 major trophies, Tiger Woods "When I was three or four years, I was very excited to watch him play at the Masters. I played with him twice in the past two years and he gave me lots of advice. And every time I play with him, I tell him that I feel much better. He gives me confidence and that's fine. "
The world No. 1 won the first of his four Masters in 1997, 18 months before the birth of Guan Tianlang.