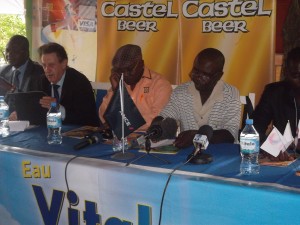 The caravan of the 22nd international cycling tour sets off on Sunday for a total distance of 1511 km including transshipments. The announcement was made Monday at a press conference in Lomé by the organizers. "This will be the richest edition we will have this year by innovations," suggested the president of the Togolese Federation, Anani Assiongbon during his speech before continuing "We made a nod to the city of Aneho. And it's been 10 years since the tour has not been there. The Aneho road is well paved and the reeve invited us to use the locality. " After 10 years off the stage Aneho will be the first round of the 22nd edition.
A total of 10 stages, including a track with a distance of 968 km are on the menu of the organizers who recorded eight teams of 8 riders namely teams from Burkina Faso, Benin, Ghana, Côte d'Ivoire, Nigeria, France and two Togolese team. According to organizers, Niger will be absent because it did not pay its obligations.
"We thank the Togolese cycling federation that has done a tremendous job because cycling is different from football. You can pay a ball of 50, 000 Cfa and then start playing. But cycling is a sport that requires generous equipment and the effort of the athlete. We thank the sponsors who provide us with the products in this race. Thank you also to our national and international media that make this event a key international event, "said the promoter of the tour, the French, Francis Ducreux.
The overall budget for this round was not disclosed. But the sponsors agreed to accompany the FTC on the tour to make this event a success. The 22nd edition of the Tour of Togo will end on April 21, 2013 with the last stage scheduled in Lomé.