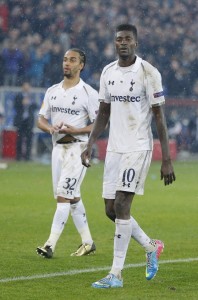 Speaking to the BBC after the match of Tottenham against Basel where he missed a penalty in the penalty shootout, cost the game to the Spurs, Emmanuel Adebayor has simply washed his hands of the criticism that befall him.
"It is difficult, said the Tottenham striker. You run in every direction for 120 minutes, you give everything you have in your stomach, you're tired, and you play to 10 for 30 minutes and at the end you have to take a penalty. "
"The pressure is there when you take the ball. This is not why we missed (note: Huddlestone has also missed his shot). We had to score, but it was not easy for us, "said the Togolese.
Emmanuel Adebayor, who turned four kicks compensation for Tottenham last season, has defended putting his failed attempt in part on fatigue and muddy and soggy St. Jacob Park of Basel: "I took penalties for Arsenal and Real Madrid. It's a gamble. You miss or you score. I missed against Basel. I am very disappointed, but that's football. You just have to stay focused and continue. "
Emmanuel Adebayor and Tottenham are not playing this weekend due to the FA Cup. The Spurs had to face Chelsea which opposes Manchester City in the semis of the competition.