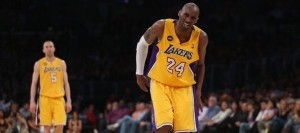 Injured at the ankle during the Lakers' victory over the Golden State (118-116), Friday, Kobe Bryant is forced to draw a line under the season even before the end of the regular season.
"The entire tendon has left, we must connect all", stated Saturday, the physical trainer of the Californian franchise, Gray Vitti after the MRI.
With this total rupture of the Achilles tendon ("third degree"), the back of the LA Lakers will be out of the competition for six to nine months. A first alert on the same ankle was held in March against Atlanta.
KB24 has had time to register 34 points to help the Lakers to keep hold of the last ticket for the playoffs of the Western Conference.
Life without the «Black Mamba» for the men of Mike D'Antoni starts tonight at the Staples Center on receipt of the San Antonio Spurs.