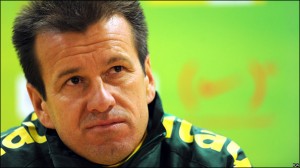 May be an adventure in Africa for Dunga. The Brazilian technician would be seen at the head of the Skulls of Uganda, since the position of coach vacated by the dismissal of the Scottish Bobby Williamson.
Currently coach of the Internacional in Brazil, Dunga would, according to several Ugandan newspapers filed his candidacy to become the new boss of the Skulls. FUFA (Federation of Ugandan football) has not confirmed the information.
Fired from the Selaccao after a disappointing 2010 World Cup, Dunga would retry the adventure with a national team.