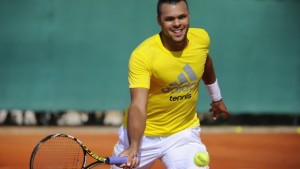 Jo-Wilfried Tsonga qualified for the knockout stages of the Masters 1000 in Monte Carlo on Tuesday.
The World No. 8 has for that defeated the Russian Nikolay Davydenko. The Frenchman did not conceal his satisfaction for having succeeded his contention of entry.
"I'm glad to have passed. This is a first game; it will put me in rhythm. You can always play better but Davydenko is a dangerous player, who has already made great games in the past, so it's great to have won. But what I am waiting for, is to face the best players. "
In the same table as Andy Murray and the eightfold defending champion Rafael Nadal, that he could meet in the quarterfinals (for Murray) or the semi-finals (for Nadal), Tsonga must first beat Jurgen Melzer, the one who beat Nicolas Almagro 6/4, 6/2.
"I have a knockout that will be difficult so I must be fit," he said.
However, the Franco-Congolese who celebrates his 28th year on this 17 April admits to have no pressure on the Rock:"For me, this is a tournament without pressure but in the locker room, I put a little because that's how I play best. It is clear that in terms of objectives, it is not the tournament that matters most in my schedule. But if I can play well at this tournament, it would be great. "
The French No 1's goal is to reach the Porte d'Auteuil in force.