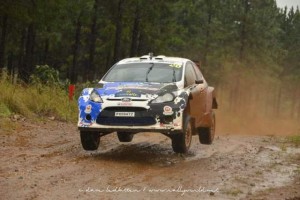 Mark Cronje won the Sasol Rally in South Africa, the second round of the Africa Rally Championship, held
in the region of Mpumalanga in Transvaal, on the 19th and 20th of April
2013. Icing on the cake: he beats a reference driver: the
Briton Matthew Wilson, a regular at the WRC.
With a rainy and foggy weather, a time … very British, the man driving his Ford Fiesta S2000, quickly
found himself at ease for his first rally on the African soil. He
moved ahead of the race from the first stage and
already more than half a minute ahead of his teammate Mark
Cronje, the South African defending Champion …
But on the second day, the rain, hitherto his ally, would play a trick on Wilson, a windshield fogged slowed his progress and he had to give the command to Cronje on SS10. The cancellation of the SS13 and 14 … because of bad weather has finally sealed the fate of the race: Cronje returned to Nelspruit winner with 1 minute 09 seconds ahead of Wilson. "It was a very tough rally in which tracks were very slippery," commented the South African on arrival "Matthew really deserved the win; he is a very fast driver."
The struggle for the third place between Leeroy Poulter (Toyota Yaris) and Hank Lategan (VW Polo) has turned in favor of the driver of the Japanese brand. 33 of the 44 teams that started the race Friday.
Matthew Wilson, but his father Malcolm, the big boss of M Sport Ford, enjoyed the special, the quality of the organization and the enthusiasm of the public for the candidate with ragards to the return of Africa in the
World Rally Championship. "South Africa has undoubtedly a place in the WRC" can be read on the Twitter account of the British driver.
The race for its own succession began badly for the Zambian Essa (Subaru Impreza) who abandoned the very first stage due to an engine problem. It is the local Jan Habig (Ford Fiesta – photo) who finished first in committed drivers and empowered to snatch points at the Continental Championship (ARC) with a 6th place in the overall drivers.
The young Jassy Singh (Subaru Impreza), son of the double African champion, Muna Singh and the Rwandan Giancarlo Davite (Mitsubishi EvoX) point to the anecdotal 15th and 21st place overall, but the most important for them is to get on the podium of the CRA Ranking over this round as evidenced by Davite comment: "It was a daunting issue! And to the end, this rally was a great feat! "
Jan Habig joined the Ivorian, Eric Pagès at the head of the Championship. However, Davite Singh Jr is still trapped. After the Land of Elephants and the Rainbow Nation, the Championship will step in Zambia (14-16 June) and in Tanzania, Kenya, Uganda and Rwanda before the final round in Madagascar in November.
Tantely Emsics – Photo: Dave Ledbitter
SASOL RALLY SOUTH AFRICA – 2nd round of the  2013 African Championship
1. Matthew Wilson / Chris Patterson (Ford Fiesta S2000) 2:00:46.6
2. Mark Cronje / Robin Houghton (Ford Fiesta S2000) +0:01:09.2
3. Leeroy Poulter / Elven Coetzee (Toyota Yaris S2000) +0:02:57.6
4. Hank Lategan / Barry Whyte (VW Polo S2000) +0:03:39.6
5. Johnny Gemmell / Carolyn Swan (Toyota Yaris S2000) +0:04:36.5
6. Jan Habig / Robert Paisley (Ford Fiesta S2000) first ARC +0:06:40.4
15. Jassy Singh / Dave Sihoka (Subaru Impreza) 2nd ARC +0:28:33.9
21. Giancarlo Davite / Sylvia Vindevogel (Mitsubishi EvoX) 3rd ARC +0:33:13.0
African Championship Ranking after round 2 (of 8)
1. Eric Pages (CIV) 25 points
2. Jan Habig (ZAF) 25 points
3. Jassy Singh (ZAM) 18 points
4. Giancarlo Davite (RWA) 15 points