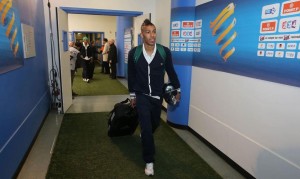 Where will the St Etienne striker Pierre Emerick Aubameyang, go next year? His destination is up to now unknown. But the player arouses the lusts with large clubs of European football. Also the leaders of the Greens want to keep for a qualification in the Champions League next season. But the race is still long. Currently fourth in the standings, the Greens should then forestall Lyon and Marseille even taped respectively at the second and third places.
The former Milan player is at least charming the clubs in the Premier League ((Manchester United, Manchester City, Newcastle) as in the Italian Serie A (Milan, Inter Milan, Fiorentina, Roma).
The direction of Germany is also a likely track for the recent winner of the League Cup. After Hamburg and Stuttgart who have already shown their desire to enlist the second best striker in League 1, Borussia Dortmund also invites itself on the list of contenders.
The German club would be willing to pay 10 million to bring the Gabonese in the Bundesliga. While his club Saint-Etienne set a price.